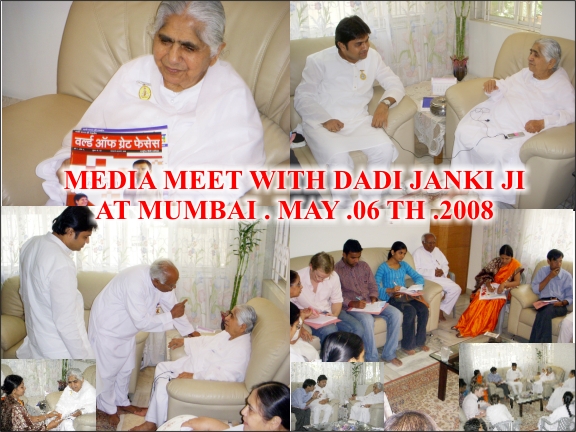 Tuesday . May 6th .2008 . 4.30 p.m
Dear Family
Its a very happy day today in MUMBAI because Dadi Janki is here for a one day visit to BLESS the City . The moment news of her arrival started circulating among the Media , we got a huge demand from all sources to have an INTERVIEW SESSION with her .
It was so kind of "Yogini Didi " ( Vile Parle ) to allow us for arranging a small yet very good PRESS MEET with Dadi ji & Karuna Bhai who flew all the way from Abu to help us arrange these programmes with Media . Correspondents from English / Gujrati / Hindi /  Marathi News Papers & Magazines were present to have a glimpse of Dadi ji . At the end their faces were all red & eyes teary with so much love & affections they received from Dadi ji . All had a common experience of having seen LIGHT & Angelic Body of a 92 Year Old Person who is working so selflessly for bringing peace & harmony to World .
We are now preparing hard to cover the EVENT "Experiencing God's Power "  in Evening where there would be more Media Persons to Cover Dadi ji . Om Shanti .
Thank You  Baba … Thank You Dadi Maa .