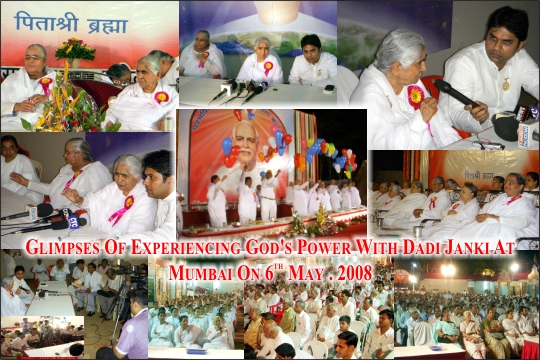 May 06th . 2008 . 10.45 p.m
Dear Family
It was a day full of joy , enthusiasm & happiness for all of us to have Dadi Janki in Mumbai & share her knowledge of wisdom among the crowds gathered at Sadanand Dhavne Udhyan Parel Mumbai. Dadi ji shared her experiences during her visit to Beirut , Kuwait & Middle East Countries . She also made crowd experience 3 minutes of Sweet Silence which was so Powerful . In her usual Jovial Mood she said that she can issue cheque of Change from her Bank in exchange to those who want to Change themselves ….
The Icing on the Cake was " PRESS CONFERENCE " at the end of Programme where 5 Satellite News Channels had gathered along with 20 Print Media Journalists to have a quick Bite with Dadi ji . All were so happy that some of them had divine experience of An Angel sitting in front of them .
So today Dadi ji's visit became memorable in the minds of the Whole Media Team as well as Media People . Our Hearty Thanks To Respected " Santosh Didi ji " ( Maharashtra Head ) who became instrumental to call Dadi ji & gave Media Persons an opportunity to meet Dadi ji for 20 minutes . Om Shanti
Thank You Baba .  Thank You Dadi Maa.