May 11, 2008
Kathmandu Nepal Zone Service News on National Launching of Experiencing God Power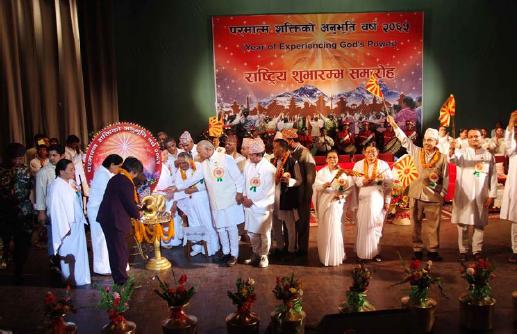 As was decided to observe the year 2008 (2065 BS) with various activities across the world by Prajapita Brahma Kumaris World Spiritual University under the copy theme, "Experiencing God's power" with a pious view to foster quality life based on peace, purity, harmony, love and mutual cooperation among fellow human beings by helping them gain inner spiritual power from the God Father, Brahma Kumaris Kathmandu Nepal Zone held a national launching of the canopy theme at Nepal Academy Conference Hall amid a colourful function. Senior Rajyogi Brahma Kumar Nirwair was the important B.K. personality especially present as a special guest for the programme graced by above 1400 souls. In the programme chaired by B.K. Raj, director of Brahma Kumaris Kathmandu Nepal Zone, chief guest Minister for Physical Planning and Works Hon'ble Mrs. Hisila Yami in her inaugural speech highlighted the significant role religion and politics could in their pure form play to establish cooperation and harmony by removing misunderstanding, conflict and disparity among the human beings to make society and the country prosperous. The aim of religion and spirituality should be to do selfless service and give unconditional love for the betterment of all human fellows, she added.
Rajyogi Brahmakumar Nirwair said by experiencing God's power men can regain virtues and values so fundamental and core to the real self. Meditation with the God empowers them with inner strength potentiality there with everyone and clarity in vision which would help their personality become moral, constructive and positive.
Brahma Kumari Raj Didi speaking from the chair said God's Knowledge and guidance is a tremendous source through which people become able to conquer their inner vices and weaknesses and gain perfection in life.
In the function, BK Geeta, BK Kusam, BK Ram Singh, BK Tilak and BK Kishore shed light on the need of experiencing God's power for positive transformation of human life. In the programme divine songs and heart rending dance were also played.
Earlier in the day, Brahma Kumar Nirwair ji met with the Rt. Hon'ble Priminister Mr. Girija Prasad Koirala, Rt. Hon'ble Chief Justice Supreme court Mr.Kedar Prasad Giri, Rt. Hon'ble Speaker of Interim Parliament Mr. Subash Nemwang and Hon'ble Chairman of Communist Party Moist Nepal and shared the activities of the Institution while giving Godly message.
National TV, National Radio, FM Radios and National daily newspapers covered news of the Progamme.