Divine  Divine Family
Greetings of peace
Brahma Kumaris, Elgin Road, Kolkata organized 3 main programs on the occasion of International Yoga Day.
1. Yoga Day Rally: A Rally was organized on "Healthy and happy Society through Rajyoga" from Kolkata Museum at 7 am.Flag off was done by Mr. Ashim kumar bose, Councillor, Kolkata Municipal Corporation & Sister BK Kanan, Senior Sister Incharge, Brahma Kumaris Eastern Zone Hqs. Around 400 bk bro and sisters participated and walked.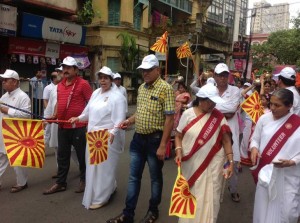 2. Yoga Seminar: Yoga seminar was organized by the West Bengal Government, Department of Health &  Family Welfare in association with Brahma Kumaris  at Netaji Indoor Stadium, Kolkata. Gathering was about 6000. Candle Lighting was done by B.K Kanan along with the other members. She addresses the gathering and explained the techinique and benefits of Rajyoga. B.K Chandra conducted Meditation along with all sisters on the stage. The program was attended by the President of West Bengal Council of Yoga and Secretary, Sports & Youth Service, Govt. Of West Bengal along with representatives of different yoga associations.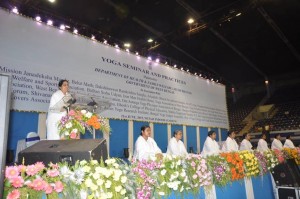 3. A public program on "Art of Meditation" was organized at the Brahma Kumaris Elgin Road Centre from 6 pm to 8 pm which was well attended by about 300 guests.
including Shri Ram Phal Pawar ,IPS,Addl. DG & IG Police ,Shri H.P.Kanoriaji,chief mentor SREI,Vice chairman, Center for promotion of India -China co-operation, Shri Viren Kumar,IPS, DG, BK Kanan,Dr.P.S.Das,Yoga consultant, Principal yoga medical college.