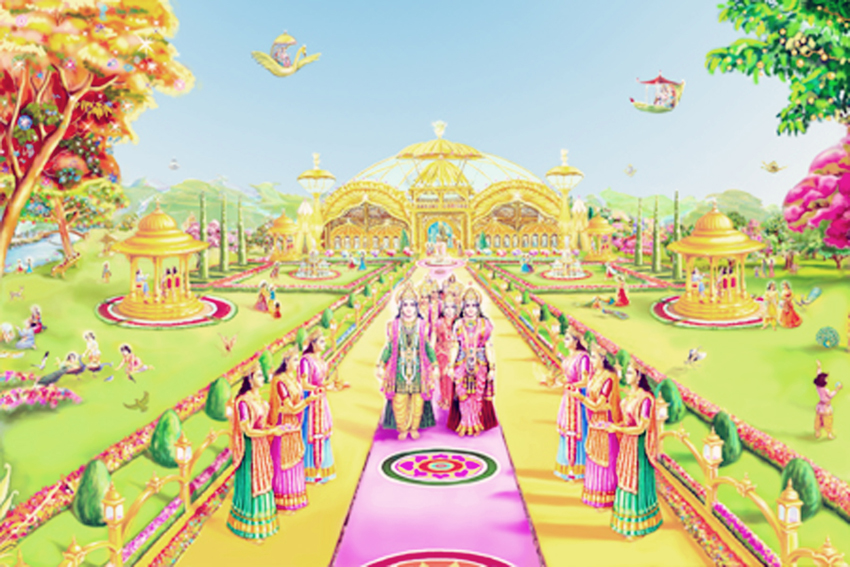 On 20th of April there was a half a day session (from 9.30 a.am. To 1.30 PM.) on experiencing golden age for the Colombo BK family. About 90 souls participated including mothers, fathers, youth and children. With the guidance of Br. Jega the whole program was organized by the youth wing.
Purpose of the program
Imbibe the golden aged sankskars and learn to live in Golden age.
Selection of participants
Among the participants the following roles were selected by considering who volunteer them self first.
Lakshmi and Narayan
4 Princes and 4 Princesses
10 wealthy subjects
10 for cooking team
6 for serving team
The rest of the family members were considered as subjects.
Instructions
Visualizing the whole center as golden age
The participants were asked to remove their watches, and were asked to switch off their hand phones. (To be free from time conscious and mundane activities)
Program design
The stage was arranged as royal court. The program started with the arrival of Laxmi and Narayan, All the subjects stood up and respectfully welcomed the emperor and the empress. Then they went to the garden and visit the subjects.  Then the royal court held the subjects share their talents and gifts to the emperor and the empress. All were enjoyed with dance and games with a nice background music. The time was spent in happiness and joy. The souls who volunteered for cooking, prepared food for that day. With the royal banquet the program ended. All felt that they are in golden age during the program time.
Feedback from the participants
When I was selected as Narayan, at that moment I felt very happy and very light. I felt pure feelings within me and the surrounding was very calm and good.
Golden age was always a dream world for me. When I first came to know that God is creating such a world, I was over joy and I can't find words to explain that experience. However this world was in front of me to see through the physical eyes again, the kingdom with soul consciousness. We were able to experience the golden age and soul conscious easily.
It was a wonderful experience without spending any money, without any make up or any change of dresses. Even though I was seated down as a subject I visualized my self as Luxmi, my experience is beyond words. Every one was happy and comfortable which cannot be forgotten in my life.
Until that day golden age was an imagination for me. When I plyed the role of a wealthy subject, I was really happy, I was in that real feeling. I felt I am fortunate to get that role. I felt bodiless and light during that time. I was enjoying the dance, games of the subjects. That is really an unforgettable experience for me.
When I entered to the kitchen as a cook there were no waste thoughts. I have achieved the maximum happiness in my life which I have never had before. Until we finished the cooking there was no thought of any one else. The feeling that we are not cooking for ordinary people kept me very light. We all experienced that the kitchen was full of peace, love and contentment.
I was operating the radio. Even though I was busy with my task while seeing the emperor, empress, and the subject I was able to experience golden age. The vibration was good at that time.
I was able to visualize golden age. I felt that really I was in Golden age. Not only for me was every one very happy at that time.
I had my meal with so much happiness with every one. When I was playing I felt that I am playing with Laxmi and Narayan. When I was dancing I felt light and had the thought that I'm playing with my sisters and brothers.