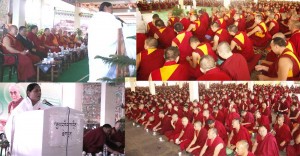 Photo caption:
Attached pictures show B. K. Shobha bahen (Goa) speaking at a large congregation of Tibetan Buddhist monks during an Inter-faith ceremony organised by Drepung Gomang Monastery in Mundgod village, near Hubli, Karnataka, yesterday.
Brahma Kumaris were invited for the programme held to commemorate 80th birthday of His Holiness the 14th Dalai Lama.
Seen sitting on the dais are the abbots (administrators) of the monastery and representatives of other faiths. The function was attended by more than 1000 monks.