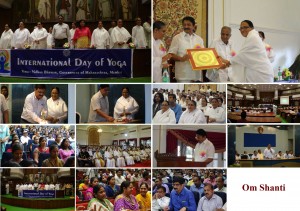 INTERNATIONAL YOGA DAY
SERVICE NEWS
CENTRE-NEPEANSEA ROAD MUMBAI –(B. K. RUKMINI – CENTRE INCHARG)
On the occasion of International Yoga Day, Nepeansea Road Centre, Mumbai organized three major programs on the zonal level. Usha Didiji came down for these programs as the Main Speaker.
1- The first program was held on 20th June,2015, from 11am to 12:30 pm, at the Mantralaya in the Conference Hall. This program was especially arranged for I.S. Officers and senior Government officials. The Chief Secretary was the Chief Guest, along with him, the Deputy Secretary, Under Secretary and other officers were present. (Total 460)
2-The second program was held on 21st June, 2015, from 10:30 am to 12 pm, at The Governor House, in the famous Durbar Hall. The Chief Guest was the Hon. Governor, Shri Vidyasagar Rao Ji. This event was attended by 400 VIPS.
3- The third program was held on 22nd June, 2015, from 2:30 pm to 5:30 pm, at the Vidhan Sabha, in the Central Hall. This event was attened by  540 Officers and staff of the Vidhan Bhavan.
Other than Rajyoga, the participants were enaged in simple and helpful yoga activities conducted by Dushyant Modi Ji.
Full Program Video link
https://www.youtube.com/playlist?list=PL5kAxoG6fPDjEAtTYOzAvtepiID2y5Y75