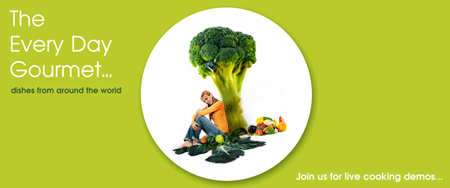 Join Inner Space in celebrating National Vegetarian Week
The Every Day Gourmet: dishes from around the world
We've all seen the celebrity chefs work minor miracles in pristine kitchens and been entertained by 'the Ready, Steady Cook' approach. This event is run by everyday cooks for everyday people – wives, daughters and friends.  People like you and me, who just add love to their cooking experience.
Enjoy an afternoon of:
live  cookery demonstrations
browse  through veggie cookbooks
tips  and tasters of fast and fantastically easy home-style  recipes!
Demonstration sessions:
Oriental blends of Chinese and Malaysian
Oodles of goodness and not just noodles
Bing Choong grew up in Malaysia and now lives in London with her Vietnamese husband.  They entertain friends and family at every opportunity!
Secrets of the Turkish Kitchen
Delight with a bite
Furkan Doygun is from Turkey and is now a language educator in London.  Her ability to flavour food with simple spices leaves your tongue tingling.  Enjoy food on the run – bites that leave you feeling fed.
Cooking the Brazilian Way
Salsa hits your plate
Leo De Jesus now works in the community with young people. As a former chef who ran his own eatery he's worked and trained under Michelin Chefs.  Leo delights in creating whole new tastes and textures.
The Magic of Indian Masala
There's more to life than Vindaloo
When you work all day with numbers as an accountant in more than one time zone, when do you have time to mix a masala?  Jayshree Patel balances a demanding career with tasty food at a turn.
Food and Soul Conversation
It's true! You are what you eat
As meditators we're more than a little concerned that what we eat supports our calm and creative mind for city living.  Join us for a lively look at the food story as we see it.
Date: Saturday 24th May
Time: 2.30pm – 5.00pm
Venue: The Dragon Hall
17 Stukeley Street, Covent Garden
London WC2 5LT
Free of charge!
For further info: [email protected] 020 7836 6688
This event is organised by Inner Space.  Inner Space offers free courses and seminars on meditation and personal development in the West End, Islington & the City.